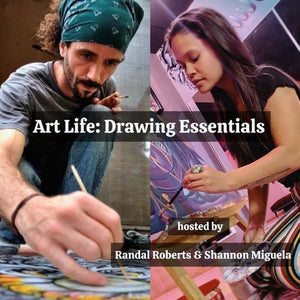 Art Life: Drawing Essentials with Randal & Shannon
Regular price
$180.00
Sale price
$220.00
Art Life: Drawing Essentials 

Whether you are just beginning your art journey or a more experienced artist this class welcomes all levels. This course is an opportunity to develop and enhance your drawing skills through practice, assignments, community, and the guidance of your art mentors Randal Roberts and Shannon Miguela.
We'll give you the necessary techniques and fundamentals of drawing over 6 weeks, so in the last 2 weeks you can create a work of art from start to finish. 
Time and Dates
Thursdays 7:00-9:00 pm 
January 4th-February 29th (No class February 1st) 
Location
Threyda Gallery 
878 Santa Fe Dr
Price
Presale: $180 for 8 sessions
After December 15th: $220
Drop in: $30 at the door

Save $40 when you sign up before December 15th. 
Curriculum 
Day 1:
Opening circle & Beginning fundamentals 
Day 2:
Light and shadow + continued essentials + cross hatching
Day 3:
Still Life 
Drawing shapes and drawing "through"

Day 4:
Keeping a sketchbook / drawing from plants & nature

Day 5:
Portraits
Day 6:
Live Model
Day 7:
Composition and 2-d design  
Day 8:
Student Art Show! + Closing circle 
Materials to bring to class
Small sketchbook / journal (optional)
All levels welcome.
Some materials will be available for shared use.
* * * * * 
Randal Roberts is an internationally recognized self-taught painter. Having identified as an artist his whole life, at the age of 30 he was inspired at last to quit the factory job, embark on a soul-searching road trip, and dedicate himself to art full time. 
He has lived in the beautiful NY Hudson Valley, the beloved San Francisco Bay, and is currently based in Denver, Colorado.
Statement:
"I pledge to do my best work for the highest good, & to practice my art as a way of awakening myself and others."
Shannon Miguela is an American artist with a BFA in art education specialized in painting and drawing. Shannon's journey as an artist celebrates the unique symbiosis of human to both worldly and otherworldly elements. She paints with the intention to empower viewers and inspire inner dialogues about the divine feminine and the surreal subconscious. She feels that through the continuous practice of enhancing and understanding human experience through visionary art, existence becomes more meaningful and lucid.
As a studio artist, live painter, and art teacher, she lives and breathes every second of her day through this creative practice. To her, painting is our soul language and  every brush stroke is an opportunity for growth. 
---
You may also like